Maybe Ozzie Guillen knows what he's doing.
With his anemic baseball team headed to Detroit to try and save its season, Ozzie Guillen once made himself the story.
Or maybe he saw what Lance Briggs had been up to and thought it would be fun. Or maybe this is just a yearly reflex he has and he has no control over it. It could be any of these things.
Last night, Ozzie Guillen went the tried-and-true route of complaining about his contract, which only has one year remaining. Coaches and General Managers have this thing about going into last seasons of a contract. They feel it undercuts their authority. Why should a player or underling listen to you when you very well might be in the garden permanently in a few months.
But that isn't this. Ozzie's authority won't be any different next year, no matter what his contract status is. His tenure being as long as it is, he's pretty entrenched. Combine that with still having the ear of veterans Paul Konerko and Mark Buerhle, and no one will try and get around Ozzie. No, that's probably not what he's doing here.
He may be just trying to keep his team focused and have all the media pressure on himself. This would allow them to focus on the four games this week that they pretty much need to sweep. He's the story, they go about their business. But one wonders how many times he can pull this card before the players and organization really tire of Ozzie throwing himself right into the middle of the spotlight again. This well isn't endless.
But this one feels like breaking an already very strained rope. It's no secret that Ozzie and GM Kenny Williams's working relationship sometimes bares the hallmark of a two-way abusive romance. It's never been worse than this year. Ozzie complaining about the players he has to use, Kenny firing back that he won't call up players Ozzie won't play. The continued use of Adam Dunn, the underuse of Brent Lillebridge, the overdue benching of Alex Rios, and on and on.
No, this one feels like Ozzie itching to take the Marlins job, where he can be the drawing card in their new stadium. It feels like Ozzie admitting, indirectly, that he and Williams can no longer work together, and Williams's job security is stronger than his. Or maybe they both go, with Williams upstairs and Rick Hahn taking the GM job to stop him from taking the Cubs one.
Whatever, it'll be sad. Made my job easier.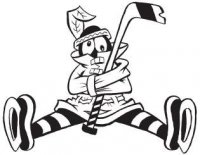 Sam Fels is the proprietor of The Committed Indian, an unofficial program for the Blackhawks. You may have seen him hocking the magazine outside the United Center at Gate 3. The program is also available for purchase online. Fels is a lifelong 'Hawks fan and he also writes for Second City Hockey .
Published at 4:55 PM CDT on Aug 31, 2011 | Updated at 9:34 PM CDT on Aug 31, 2011