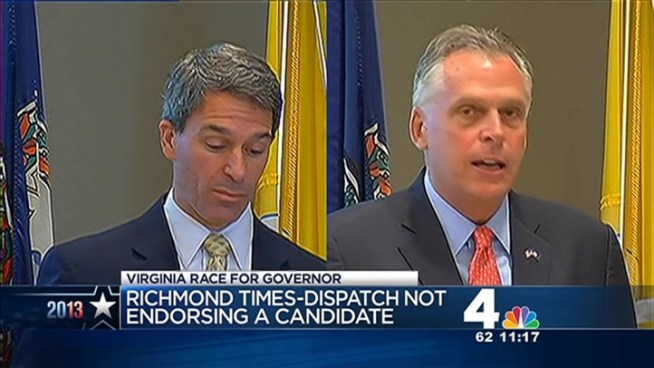 Barbara Harrison, Mark Murray
The Richmond Times-Dispatch reveals they will not endorse either major-party candidate in Virginia's governor's race and claims both candidates of having "earned the citizenry's derision." NBC News' Senior Political Editor Mark Murray discusses the effects this will likely have on the outcome of the race.
The Richmond Times-Dispatch has made its choice known when it comes to the commonwealth's gubernatorial race: none of the above.
In an article published in Sunday's paper, the Times-Dispatch says it can't bring itself to endorse Republican candidate Ken Cuccinelli, Democrat Terry McAuliffe, or Libertarian Robert Sarvis.
"The major-party candidates have earned the citizenry's derision. The third-party alternative has run a more exemplary race yet does not qualify as a suitable option," the Times-Dispatch explained.
The paper accuses Cuccinelli of rigging the process for winning the Republican nomination when his supporters changed the system by which the party picks its nominee. It also says McAuliffe won the Democratic nomination by default, thanks to what it calls a "weak bench."
The Times-Dispatch feels Sarvis doesn't have the experience necessary to run the commonwealth.
This is the first time in recent years the leading newspaper for the city has not endorsed a candidate.
The gubernatorial race has been a close one, with McAuliffe pulling ahead in recent weeks.
A NBC4/Marist poll released last week found Cuccinelli slipping further behind McAuliffe, with McAuliffe ahead 46 to 38 percent among likely voters. That's 3 points wider than McAuliffe's 43 to 38 percent lead a month ago -- before the government shutdown. Libertarian Robert Sarvis garnered 9 percent of those surveyed.
RELATED COVERAGE ON NBCWashington.com: