Police Warn of Lakeview Mugger Wearing Clown Mask
Anyone with information call Area North detectives at 312-744-8263
Thursday, Sep 26, 2013 | Updated 6:23 AM CST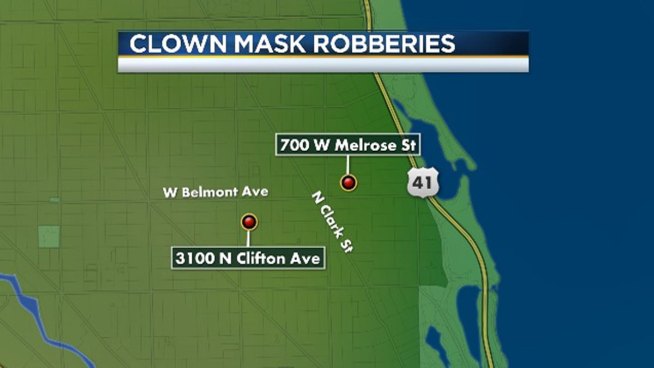 A man wearing a clown mask is among a trio who've mugged people at gunpoint in Chicago's Lakeview neighborhood recently, officials said.
Police said there have been two similar incidents -- both in the early morning hours of Sept. 21 -- where victims have been approached and robbed of their cell phones, money, purses and wallets at gunpoint.
One incident happened at about 2:15 a.m. on the 700 block of West Melrose Street. Another happened about 30 minutes later in the 3100 block of North Clifton Avenue, officials said.
In one of the robberies, the men made the victim kneel on the ground. One of the attackers, wearing a clown mask, struck the victim hard enough to cause a bruise.
The attackers are only described as black men, possibly in their 20s, who stood between 5 feet, 8 inches and 6 feet, 1 inch tall. While all three wore hooded sweatshirts, one was wearing a clown mask and another a ski mask or scarf.
Anyone with information call Area North detectives at 312-744-8263.