Clear Channel to Remain Defendant in E2 Lawsuits
Stampede in nightclub in 2003 left 21 people dead
Wednesday, Apr 14, 2010 | Updated 8:15 PM CDT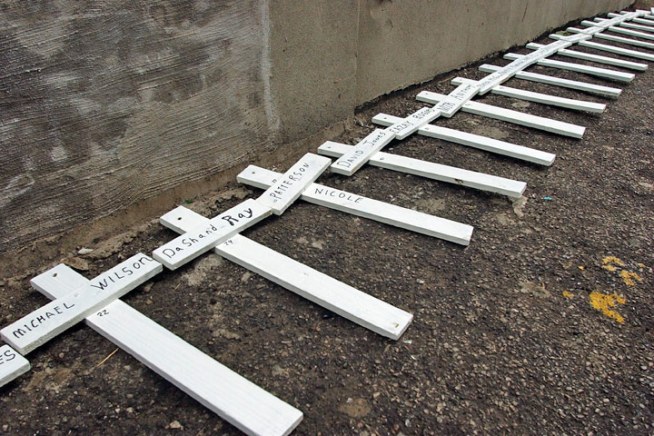 Jonathan Daniel/Getty Images
A row of crosses with the names of victims is shown in the alley next to the Epitome nightclub February 18, 2003 in Chicago, Illinois. At least 21people died early February 17 after a security guard allegedly used mace or pepper spray to break up a fight, causing a panic and a stampede for the exits. At least 30 people were hospitalized.
A judge has ruled Clear Channel Communications will remain a defendant in civil lawsuits filed after a fatal 2003 nightclub stampede in Chicago.
Cook County Judge Kathy Flanagan on Wednesday denied Clear Channel's request to be removed from the cases.
The stampede at the E2 nightclub left 21 people dead. The victims were crushed in a stairway after someone used pepper spray to break up a fight inside the club.
The plaintiffs claim actions of a DJ employed by a Clear Channel radio station contributed to the stampede.
Attorney Melvin Brooks represents some of the plaintiffs. He says he hopes the judge's ruling will hurry the case toward a trial or settlement.
Clear Channel spokeswoman Maggie Duquin says the San Antonio, Texas-based company isn't commenting on the ruling.
The co-owners of the club had involuntary manslaughter charges dropped in 2008, but were later found guilty of indirect criminal contempt for disobeying a court order to close the second floor of the club. Dwain Kles and Calvin Hollins were each sentenced to two years in jail.