Sacrebleu! Hancock Observatory Goes French
The Tribune reports that the deal was worth somewhere between $35 million and $45 million
Thursday, Jul 19, 2012 | Updated 8:31 AM CDT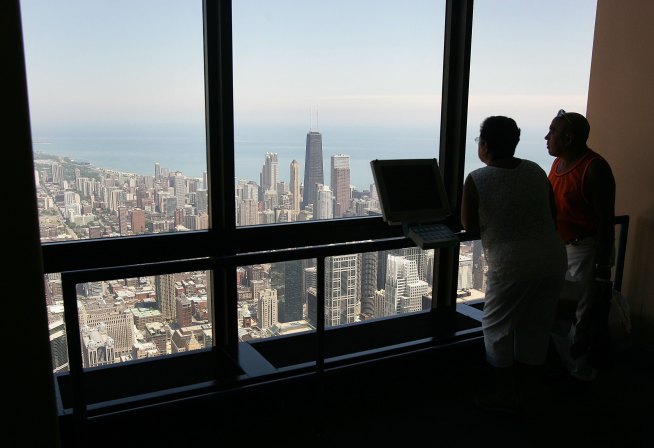 Getty Images
Visitors look out towards Lake Michigan and Chicago's skyline, including the John Hancock building (C) from atop the Sears Tower Skydeck observation deck June 7, 2006 in Chicago, Illinois. Completed in 1973, the Sears Tower at 1,450 feet tall is the tallest building in the US and a popular location for tourists.
A French group that has made its business to manage observation decks around the world purchased The John Hancock Observatory this week.
Montparnasse 56 Group already operates an observation deck in France that competes with the Eiffel Tower and another in Berlin, but this is their first move into the American observation deck market, according to the Chicago Tribune's Kathy Bergen.
Not much will change under the new management.
Tickets will remain at $17.50 for adults and $11.50 for youths. Staffing levels will also remain the same or grow, the group said.
The Tribune reports that the deal was worth somewhere between $35 million and $45 million.
Read more in the Chicago Tribune.