Heavy Rain, Thunderstorms En Route
Flooding expected in several Chicago-area counties
Thursday, Jun 2, 2011 | Updated 10:25 AM CDT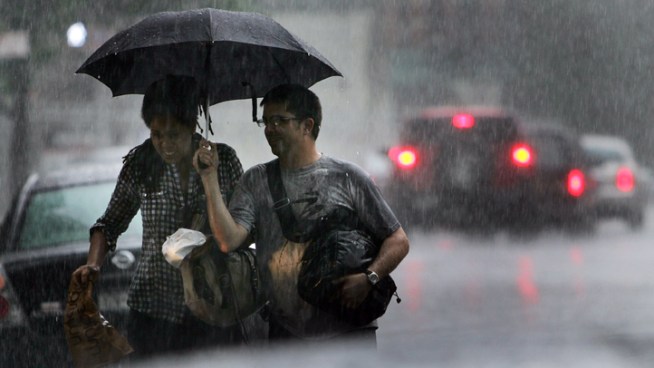 Getty Images
NEW YORK - JUNE 12: Pedestrians squeeze under an umbrella in a late afternoon thunderstorm July 12, 2007 in New York City. Hot temperatures have resulted in numerous afternoon and evening storms over the past couple of days in the New York metropolitan area. (Photo by Spencer Platt/Getty Images)
The Chicago-area is expected to get hit with heavy rain and thunderstorms Sunday night.
The storms are expected to arrive after 4:00 p.m. with the heaviest rain falling between 10:00 p.m. - 4:00 a.m., Monday.
According to the National Weather Service, colder air is likely to move in creating freezing rain and icy roads Monday morning.
The storm will be moving in from the south/southeast and there's a chance some areas may get up to two inches of rain, according to the agency.
The NWS has issued a flood advisory for areas surrounding the Des Plains River in Cook County, the East Branch of the DuPage River in Will County, the Fox River in Kane and Kendall Counties, Kankakee River in Kankakee, Grundy and Will Counties and the Mazon River in Grundy County.
Severe weather alerts have also been issued in parts of Illinois.