Blackhawks vs Coyotes Game 6 Set for Monday Night
Game time Monday night at 9 p.m.
Monday, Apr 23, 2012 | Updated 5:50 AM CDT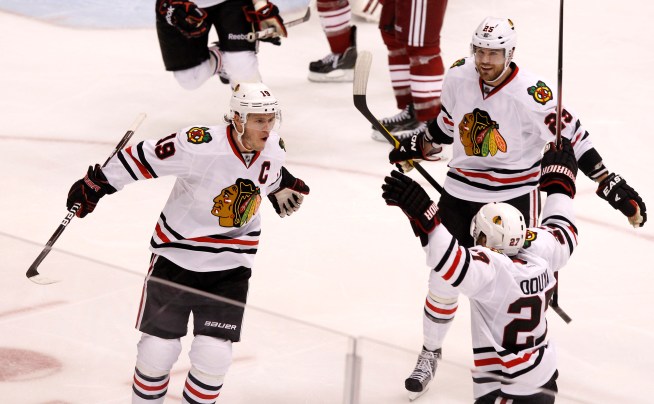 ASSOCIATED PRESS
Chicago Blackhawks' Jonathan Toews (19) celebrates his game-winning goal against the Phoenix Coyotes with teammates Viktor Stalberg (25), of Sweden, and Johnny Oduya (27) during overtime in Game 5 of an NHL hockey Stanley Cup first-round playoff series Saturday, April 21, 2012, in Glendale, Ariz. The Blackhawks defeated the Coyotes 2-1.(AP Photo/Ross D. Franklin)
Game 6 of the Chicago Blackhawks-Phoenix Coyotes Stanley Cup Playoff Conference Quarter-Final series is set for Monday night, announced The National Hockey League Sunday.
On Saturday the Blackhawks beat the Coyotes in overtime. Jonathan Toews scored the winning goal 2:44 into overtime making the final score 2-1.
"We want to win it more than anything," said Jonathan Toews in a press conference after the game Saturday night. The Hawks and Coyotes have now played five straight games that that have gone into overtime. The last time a series went into a fifth straight overtime was in 1951.
Game 6 will be played Monday night at 9 p.m. in Chicago at the United Center.