Video Shows Captured Israeli Soldier in Good Health
Israel released 19 prisoners to secure footage of prisoner from Hamas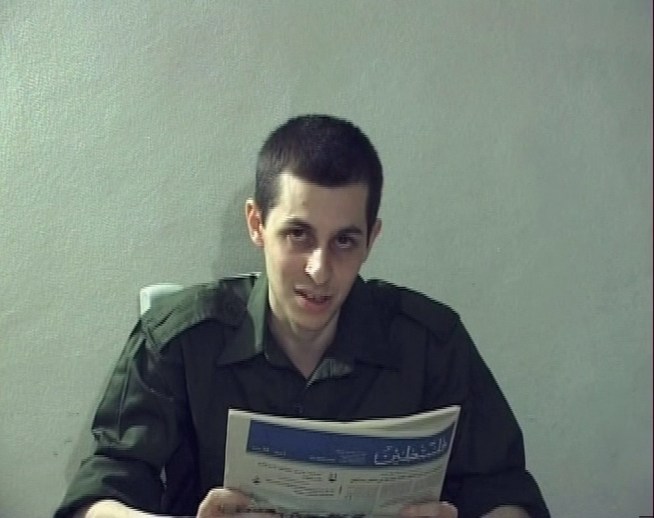 Getty Images
ISRAEL - OCTOBER 2: In this video-grab made available by the Hamas on October 2, 2009, captured Israeli soldier Gilad Shalit is seen holding a Palestinian newspaper dated September 14, 2009. Israel received the video from Shalit's captors, the militant group Hamas, in exchange for the release of 20 Palestinian women prisoners from Israeli jails. The video is the first released since his capture in June 2006. (Photo by Getty Images)
A video showing an Israeli soldier captured more than three-years-ago was released after
Israel
let 19 female Palestinian prisoners go free.
"I wish to send regards to my family and say to them that I love and miss them and yearn for the day in which I will see them again,"
Gilad Shalit
said in the video.
The footage, released on Oct. 2, showed Shalit seated in a chair holding a newspaper dated Sept. 14. He said he was in good health and his captors were treating him well,
according to the BBC
.
"I hope the current government headed by Benjamin Netanyahu will not waste this opportunity to finalize the deal and that as a result I will finally be able to realize my dream and be released," he said.
Shalit was captured in a cross-border raid in June 2006, leaving four dead and four wounded. Suffering from a shoulder wound and a broken wrist, he was dragged back to the Palestinian side of the
Gaza Strip
by Palestinian resistance fighters.
Over Shalit's three-year imprisonment, his captors only allowed him to send three letters to his family to confirm he was alive.
This video marks the first time Shalit has been seen by his family since his capture.