"Little Fockers" Tops Holiday Weekend Box Office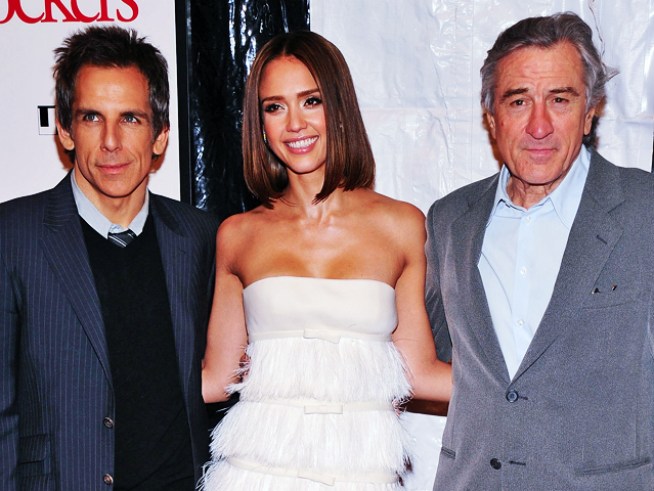 Getty Images for Paramount Pictu
NEW YORK, NY - DECEMBER 15: (L-R) Actors Ben Stiller, Jessica Alba and Robert De Niro attend the world premiere of "Little Fockers" at Ziegfeld Theatre on December 15, 2010 in New York City. (Photo by Jamie McCarthy/Getty Images for Paramount Pictures) *** Local Caption *** Ben Stiller;Jessica Alba;Robert De Niro
"Little Fockers" was no. 1 at the box office on a weekend when Hollywood competed with Christmas gatherings and fierce snow storms in the Northeast and Southeast.
According to studio estimates Sunday, the poorly reviewed third installment of the Ben Stiller series of in-law comedy was to earn $34 million over the three-day weekend, and $48.3 million since opening on Wednesday.
VIEW THE PHOTOS: All Access: 'Little Fockers' Junket
The Coen brothers' "True Grit" took in a better-than-expected .6 million over the weekend, with a five-day total of .8 million. That marked the best opening ever for Joel and Ethan Coen.
In its second weekend of release, "TRON: Legacy" dipped 54.3 percent to earn .1 million, bringing its gross to .3 million.
VIEW THE PHOTOS: 'Tron: Legacy' Leading Man Garrett Hedlund
Copyright 2010 by Associated Press. All rights reserved.This material may not be published, broadcast, rewritten or redistributed.
Related Content from AccessHollywood.com:
VIEW THE PHOTOS: Access' Top 10 Movies We Can't Wait For In 2011!
VIEW THE PHOTOS: From 'House' Hottie To 'Tron' (Head) Turner: The Lovely Olivia Wilde
PLAY IT NOW: 'Little Fockers' Unleashed!
PLAY IT NOW: Access Extended: Jessica Alba Talks 'Little Fockers' (Part I)
More from Access: [ Box Office 'Little Fockers' Ben Stiller ]