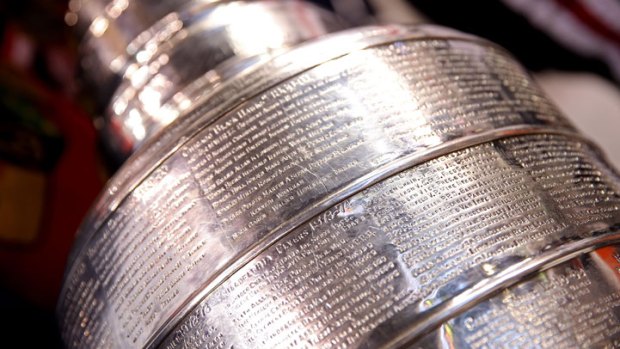 Bruce Bennett, Getty Images
A view of the Stanley Cup is shown following the Chicago Blackhawks 3-2 win against the Boston Bruins in Game Six of the 2013 NHL Stanley Cup Final at TD Garden on June 24, 2013 in Boston, Massachusetts.
Illinois Gov. Pat Quinn won his friendly wager with Massachusetts Gov. Deval Patrick when the Chicago Blackhawks won the Stanley Cup.
Quinn said in a statement Tuesday afternoon the Patrick will make good on his bet by volunteering this summer at the Greater Chicago Food Depository. The Illinois governor said the Boston Bruins "performed admirably" but "were no match for the might Chicago Blackhawks.''
Chicago defeated Boston on Monday night to win the championship series.
The governors announced the wager earlier this month. Quinn would have volunteered at the Greater Boston Food Bank if Chicago lost the Stanley Cup.