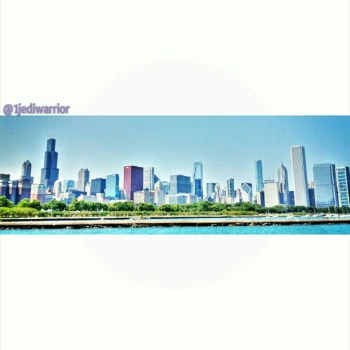 1jediwarrior/Instagram
#chicago #skyline....
After Roger Ebert died, one of his obitiarists defined him as an international celebrity who was "of Chicago," as opposed to celebrities who are "in Chicago," and simply use the city as a platform to achieve fame. The distinction came up again this week after DePaul University professor Rachel Shteir reviewed three Chicago-related books in The New York Times, but really reviewed the city -- and not very flatteringly. Shteir, who lived in New York before moving here and would like to move back, is definitely in Chicago. Rod Blagojevich, the subject of one of the books she reviewed, moved to Colorado last year, but would definitely like to move back here, is of Chicago.
Here's a short list of celebrities "in Chicago" and "of Chicago." You don't have to be from Chicago to be "of Chicago" -- Muddy Waters and Mike Ditka are transplants who became cultural icons here. Nor do you still have to remain in Chicago -- David Mamet wrote the script for The Untouchables after moving to Vermont. Here are our lists. Add your suggestions.
IN CHICAGO
Oprah Winfrey
Michael Jordan
Al Capone
Joseph Cardinal Bernardin
Jeff Tweedy
Jerry Springer
Phil Donahue
Rahm Emanuel
Brian Urlacher
Walter Payton
Liz Phair
Steve Harvey
Allan Bloom
Mike Singletary
Barack Obama
OF CHICAGO
Roger Ebert
Gene Siskel
Ann Landers
Francis Cardinal George
Jenny McCarthy
John Cusack
Mike Ditka
Jim Belushi
R. Kelly
David Mamet
Muddy Waters
Mike Royko
Saul Bellow
Studs Terkel
Ron Santo
Richard J. Daley
Richard M. Daley
Nelson Algren