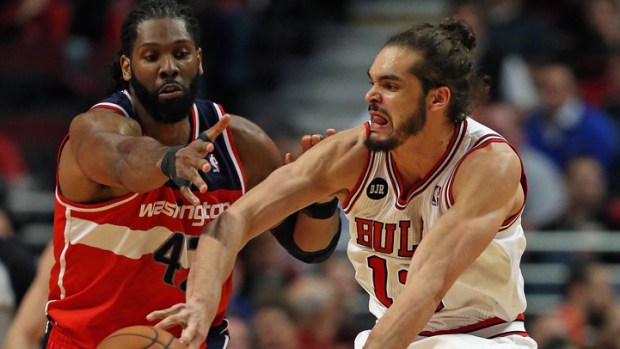 Getty Images
Joakim Noah #13 of the Chicago Bulls passes under pressure from Nene #42 of the Washington Wizards in Game Five of the Eastern Conference Quarterfinals during the 2014 NBA Playoffs.
John Wall finished with 24 points, Nene scored 20, and the Washington Wizards beat the Chicago Bulls 75-69 on Tuesday night to clinch their first-round series in five games.
Bradley Beal scored 17 points, and the fifth-seeded Wizards advanced in the postseason for just the third time since the 1970s. They will meet Indiana or Atlanta in the Eastern Conference semifinals.
It's a huge step for a franchise that hadn't been to the postseason since 2008, but with Wall and Beal leading the way, they won 44 games during the regular season.
The Wizards turned a halftime tie into a nine-point lead heading into the fourth quarter and hung on down the stretch.
Chicago's comeback chances took a big hit early in the final quarter when Taj Gibson crumbled to the court clutching his left ankle after he tried to block a layup by Wall with the Wizards up by six points. He had to be helped off the court and did not return.