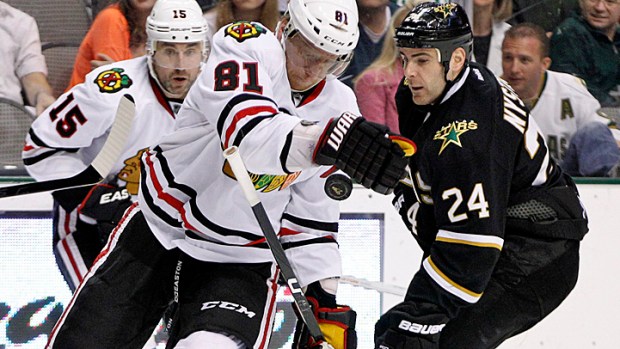 AP
Chicago Blackhawks' Marian Hossa (81), of Slovakia, knocks down the puck as Andrew Brunette (15) and Dallas Stars' Eric Nystrom (24) looks on in the second period of an NHL hockey game Friday, March 16, 2012, in Dallas. (AP Photo/Tony Gutierrez)
Update: 2:32pm: The Blackhawks' Twitter feed has confirmed that Hossa will be out tonight.
According to reports coming out of the Chicago Blackhawks' morning skate in Anaheim, winger Marian Hossa is not on the ice, and is unlikely to play in tonight's crucial battle with the Ducks.
Chris Kuc of the Chicago Tribune had a couple of interesting tweets about the situation early this afternoon:
He followed that tweet up with this:
Needless to say, this is a big blow for the Blackhawks, as they are already without winger Patrick Sharp. The news that Hossa will sit isn't a surprise; he left Monday's game against the Colorado Avalanche with an apparent arm injury and did not return.
In resting the 34-year old forward, head coach Joel Quenneville has to be banking on a full recovery by the time the team plays again on Monday night, a home date against the defending champion Los Angeles Kings. This will be the second game Hossa, the third leading scorer on the Blackhawks with 13 goals and 10 assists on the season, has missed this season.
1:33pm UPDATE:
Not sure what to make of this, but Mark Lazerus of the Chicago Sun-Times reported that Jamal Mayers was on the ice with Jonathan Toews and Brandon Saad during warmups. That very well could be the line Quenneville will use, but it isn't one we've seen in the past, so Lazerus hypothesized that this might not be the death knell of Hossa's status for tonight: