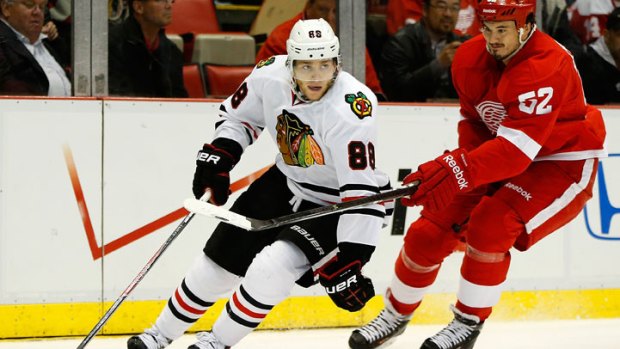 Gregory Shamus, Getty Images
Patrick Kane #88 of the Chicago Blackhawks tries to get around the stick of Jonathan Ericsson #52 of the Detroit Red Wings during the first period in Game Four of the Western Conference Semifinals during the 2013 NHL Stanley Cup Playoffs at Joe Louis Arena on May 23, 2013 in Detroit, Michigan.
Various Chicago Blackhawks players have made it a habit of appearing in videos showcasing their whacky personalities, childish antics, or sick puck-handling skills, but for Patrick Kane and Andrew Shaw, things got a bit more interesting in a new ad they appear in for BMO Harris Bank.
In the spot, the duo are shown swimming with a bank customer, but they aren't exactly in swim gear:
The bank, which has sponsored the Hawks for over five years, also had a series of ads that debuted during the 2013 season. One of the more notable ones starred Patrick Sharp in an environment slightly more familiar to him than a swimming pool:
It's tough to tell which direction the bank will go with their next Hawks ad. Maybe Jonathan Toews helping a customer at the grocery store? Marian Hossa pumping gas for someone in a blizzard? Duncan Keith performing home improvement work?
If BMO uses one of our ideas, we'll expect a royalty check in the mail.