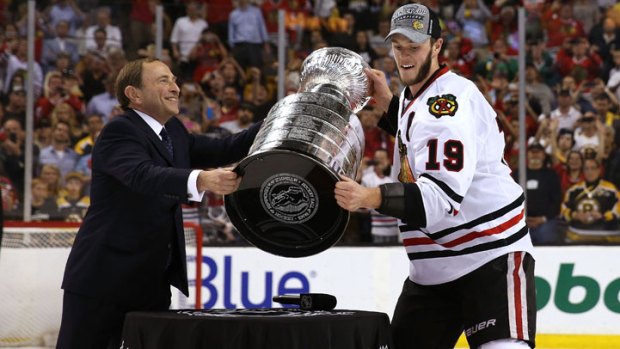 Bruce Bennett, Getty Images
NHL Commissioner Gary Bettman presents the Stanley Cup to Jonathan Toews #19 of the Chicago Blackhawks after Game Six of the 2013 NHL Stanley Cup Final at TD Garden on June 24, 2013 in Boston, Massachusetts.
Chicago Blackhawks captain Jonathan Toews has a nickname that doesn't exactly exude fun: Captain Serious.
On Monday night, however, he cut loose a little bit, and decided that dancing on the ice after winning the Stanley Cup was an appropriate celebration.
Here is the video, courtesy of Andrew Dewitt:
Surely there will be plenty more videos surfacing in the next few days with Hawks players celebrating their championship, but none will have the odd appeal of Toews busting a move on visiting ice.
H/T to Puck Daddy as well.