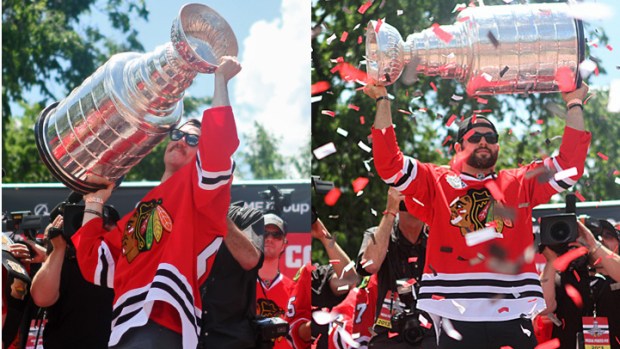 Marcus Riley
Andrew Shaw and Brandon Bollig both had words for Justin Bieber on Twitter after hearing about the Indian Head incident.
Some Chicago Blackhawks players got wind of Justin Bieber's faux pas with the locker room Indian head Tuesday night.
Bieber, who performed at the United Center, hung out with the Stanley Cup before the concert, but photos showed him stepping on the Indian head logo on the locker room floor.
In case you didn't know, it's extremely superstitious to step on the logo. The players go to great lengths not do it, especially during the playoffs when it gets roped off.
Blackhawks fans erupted in anger on Twitter and Facebook, and Hawks player Andrew Shaw also got into the act, chiding his fellow Canadian via Twitter.
Brandon Bollig also got into the mix, comparing Bieber to
Rafi Torres
, the Phoenix Coyote player who received a 25-game suspension for a dirty hit on Marion Hossa in 2012.
Meanwhile, Hawks' marketing executive Peter Hassen, who tweeted the initial picture that created the Bieber Cup Fever backlash, is asking fans to relax.