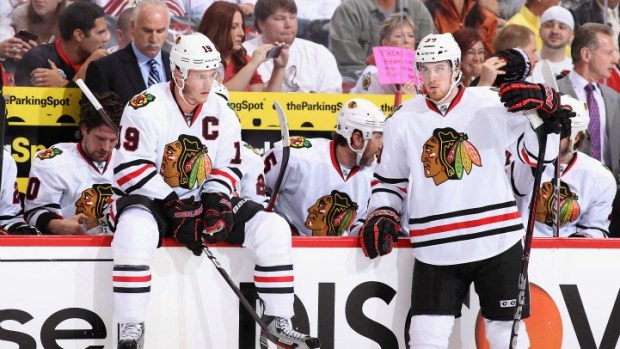 Christian Petersen/Getty Images
Hawks teammates Jonathan Toews and Jimmy Hayes take a break during a time out.
As promised, Madhouse Enforcer is proud to present Hawks Headlines, a series of posts designed to track down the latest news surrounding the Chicago Blackhawks. We'll also have random videos and stories that can be found around the web, so if you're ever wanting to get your Hawks fix, you have to look no further than right here.
Ray Emery is sporting a record of 11-0-0 for the Blackhawks, but even with that ridiculous mark, he is still technically the team's backup goalie. Even still, he is taking everything in stride, telling ESPN "I just want to play well. Each and every game is a new team, a new challenge and I just treat it as I want to win one game at a time." [ESPN Chicago]

Well, the Rockford IceHogs sure had an interesting week last week. Not only did they get involved in a massive brawl with the Chicago Wolves, but they also took four points out of the six available, beating Chicago twice and losing to Peoria on Saturday. Kim Wrona has more. [Runs on Duncan]

Chris Kuc had a nice piece on center Marcus Kruger on Tuesday afternoon, and his maturation is evident:
"I feel comfortable here right now. They want me to be a guy they can rely on in all situations. You always want to get better every day." [Chicago Tribune]
Speaking of guys coming into their own, Mark Lazerus has the scoop on Brandon Saad's maturation for the other major Chicago newspaper. There is a video included as well. (Signup required to view content) [Sun-Times]

Tracey Myers gives us the game preview for Wednesday's clash between the Hawks and the Anaheim Ducks. Included is a nifty quote from Anaheim headmaster Bruce Boudreau:
"I want everything. I never once thought Chicago was out of range. Everybody else did."
Judging by Joel Quenneville and Patrick Kane's comments in the same story, the Hawks definitely haven't overlooked the Ducks either, so the game tonight promises to be a fascinating one to watch. [CSN Chicago]
Finally, Al Cimaglia had some thoughts on what the Corey Perry contract means for the Hawks' two superstars, Kane and Jonathan Toews:

"The Blackhawks have two elite young forwards with contracts set to expire after the 2014-2015 campaign. If Rocky Wirtz had any doubt as to what it will cost to resign Kane and Toews, he now has a clearer picture."

No one would be surprised to see the Hawks sign Kane and Toews to matching 8-year deals, likely in the $8.5-9 million range, but with their free agency not set to hit until 2015, there's no reason to rush it now. [Fox Chicago]