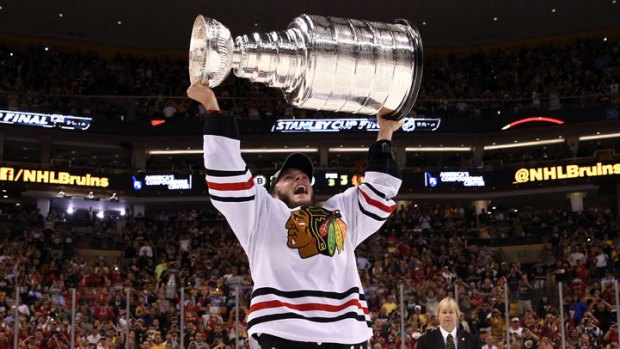 Bruce Bennett, Getty Images
Jonathan Toews #19 of the Chicago Blackhawks hoist the Stanley Cup Trophy after defeating the Boston Bruins in Game Six of the 2013 NHL Stanley Cup Final at TD Garden on June 24, 2013 in Boston, Massachusetts. The Chicago Blackhawks defeated the Boston Bruins 3-2.
It will still be 18 days before Patrick Kane and the rest of the Chicago Blackhawks will skate across it at the team's Training Camp Festival, but on Thursday, the team took to the task of painting the United Center ice surface.
Here is photo evidence of their handiwork:
The Hawks also posted a panoramic view of the work on their Twitter feed (and are continously updating it with pictures of the progress):
Obviously, the Hawks still have a little bit of time left to enjoy their summer off with the Stanley Cup, but with the regular season 33 days away, there is a palpable sense of anticipation in the air, and preparing the ice for the campaign is a cool step in the process.