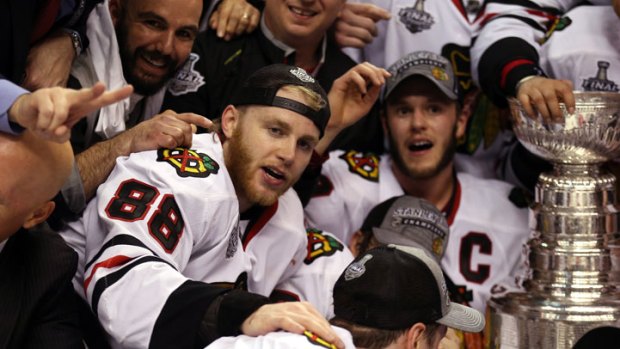 Bruce Bennett, Getty Images
Patrick Kane #88 and Jonathan Toews #19 of the Chicago Blackhawks celebrate next to the Stanley Cup after they won 3-2 against the Boston Bruins in Game Six of the 2013 NHL Stanley Cup Final at TD Garden on June 24, 2013 in Boston, Massachusetts.
Chicago Blackhawks General Manager Stan Bowman is a proud alum of the University of Notre Dame, so Monday's news isn't all that surprising.
That's because the team will begin their annual training camp at the school on Sept. 12. The practices, which will be held at the state-of-the-art Compton Family Ice Arena, will run from the 12th through the 15th and will be followed by the team's annual Training Camp Festival at the United Center, held Monday, Sept. 16.
Tickets for that event go on sale at 10 a.m. Friday, but for the team, the prospect of beginning their training camp at Notre Dame is an exciting proposition.
"We are thankful that Notre Dame is allowing us to host our camp at their new state-of-the-art, world-class facility," Bowman said in a press release. "Opening camp on the road offers our players and coaching staff a unique team bonding atmosphere. We look forward to bringing Blackhawks hockey to our fans in Northwest Indiana."
The brass at the school also expressed excitement over the arrangement. "It is great to have the best team in hockey spend time at what we believe is one of the best hockey facilities in the country," Athletic Director Jack Swarbrick said in a statement.
Practice schedules have not been announced yet, and no word has come out as to whether or not the practices will be open to the public. We'll continue to update the story as we get more details.