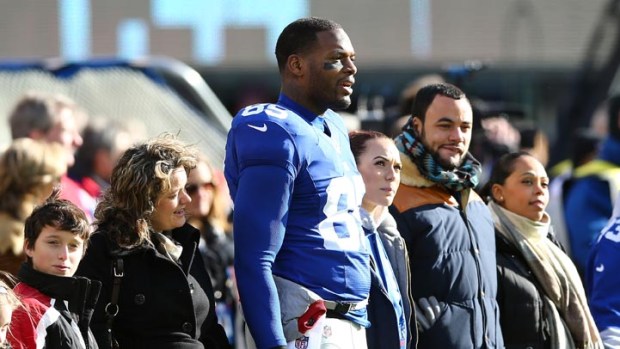 Getty Images
EAST RUTHERFORD, NJ - DECEMBER 30: Martellus Bennett #85 of the New York Giants holds hands with families from Sandy Hook Elementary School in Newtown, (Photo by Elsa/Getty Images)
When the Bears signed Martellus Bennett last week, they picked up a tight end who can block and catch. They also picked up a man who works Twitter like no other. His hilarious tweets need to be a part of your Twitter life.
He calls himself the Black Unicorn, and talks about how he should have a whale farm.
But not everything is silly. He talks about how important art is for children and for schools, and then adds nuggets like this.
We also get a look at his relationship with his wife, and their move to Chicago. OK, perhaps we get too close of a look. When his wife tweeted that she was enjoying a glass of wine while packing up their home in New Jersey, check out his response.
Easy there, Martellus! She is packing while he is in south Florida training with Brandon Marshall.
He also does question and answers with fans, with predictably weird answers.
He'll add plenty to the Bears' offense. He caught five touchdown passes last season, and has much more potential than Kellen Davis. But he'll add some fun to the team, which will make them even more fun to cheer for.