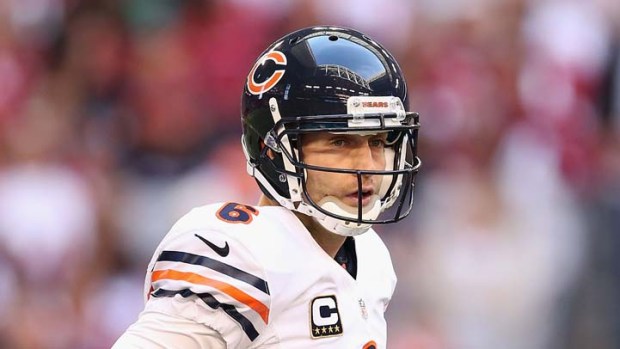 Getty Images
No, Jay, you can't catch a break. (Photo by Christian Petersen/Getty Images)
During Sunday's wild card playoff, Redskins' quarterback Robert Griffin III wrecked his leg. Redskins coach Mike Shanahan kept RG III in the game despite his diminished play and inability to run like the wind. Now, RG III, one of the league's most promising players, is facing a total knee reconstruction.
Obviously, this is all Jay Cutler's fault.
At least, that's what ESPN pre-supposed when it asked the question, "How much do you blame Jay Cutler for RG III's knee injury?"
See, because when Cutler injured his knee in the playoffs, Lovie Smith pulled Cutler from the game. It was the right move for Cutler's health and the team, but Cutler faced criticism from NFL players (who weren't in the playoffs). So Shanahan's irresponsible decision? Obviously Cutler's fault.
This line of thinking led to a fun reaction on Twitter: #BlameJayCutler. Something went wrong with your day? You know who to blame:
Personally, I blame Jay Cutler for the flu bug I caught earlier this week and the fact that my holiday decorations are still up. How dare you, Jay?
Let us know in the comments section about the calamaties for which you hold Jay Cutler accountable.