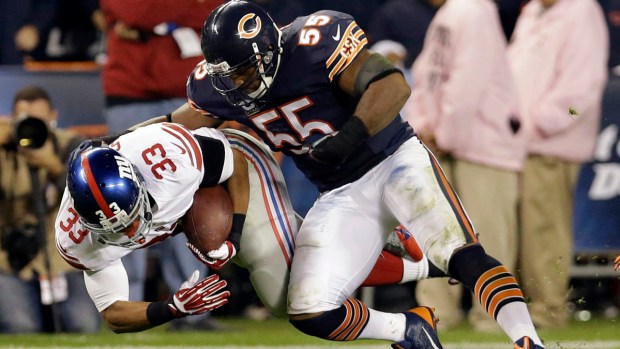 AP
Chicago Bears linebacker Lance Briggs (55) tackles New York Giants running back Da'Rel Scott (33) in the second half of an NFL football game, Thursday, Oct. 10, 2013, in Chicago. (AP Photo/Nam Y. Huh)
In a league like the NBA where players are only in college for a year before they head to the pros, college loyalty isn't much of a concern. In the NFL, however, where there is a three year waiting period before players can enter the league, the feelings of loyalty to one's university are much stronger.
Perhaps that's why Chicago Bears stars Lance Briggs and Kyle Long got into a bit of a friendly spat on Twitter Thursday night after Briggs' Arizona Wildcats knocked off their in-state rival Arizona State Sun Devils by a score of 91-68. The win means that the Wildcats are still undefeated on the season, and Briggs had this to say about their victory:
Long, who attended the University of Oregon, didn't take too kindly to his Pac-12 rival's trash talk:
To his credit, Briggs didn't compare the two teams' records (Arizona is 17-0, while Oregon is just outside the Top 25 with a 13-3 record), but instead kept it simple in his reply to the All-Rookie right guard:
This rivalry could be something to keep an eye on between the two players, as Oregon will travel to Tucson to battle Arizona on February 6th in a nationally televised showdown. Long will also have to contend with DT Stephen Paea, whose Oregon State Beavers will battle the Ducks on Sunday.