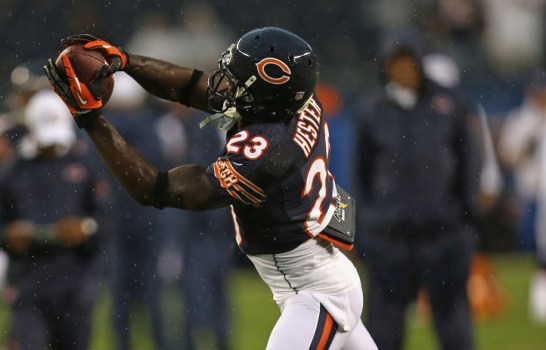 Getty Images
Devin Hester No. 23 scored in the third quarter of Monday night's game against the Cowboys.
Devin Hester's leaping stretch grab into the endzone while cradling the football to open the third quarter Monday Night was like two old friends hugging after not seeing each other in a long time. The Endzone and Hester used to be pals.
"Yeah, yeah it's been so long" Hester said after the Bears beat the Cowboys 34-18 at Cowboy Stadium.
Hester voiced his displeasure earlier in the week at having only two receptions all season. Some would scoff at a player speaking out like that, but Hester said Offensive Coordinator Mike Tice took it to heart.
"Mike Tice came to me and said I was going to be one of the stars of the game" Hester said after scoring his first touchdown of the season. "That pretty much told me that he was going to give me opportunities to make plays."
"We understand each other. That's the great thing about Coach Tice…he's willing to drop his ego and communicate more with the players." Hester explained he can't make plays if the ball isn't coming his way. "When you got a coach like that, the players will do whatever it takes. The way he's going by communicating with players … he's going to get a lot of guys to fight for him."