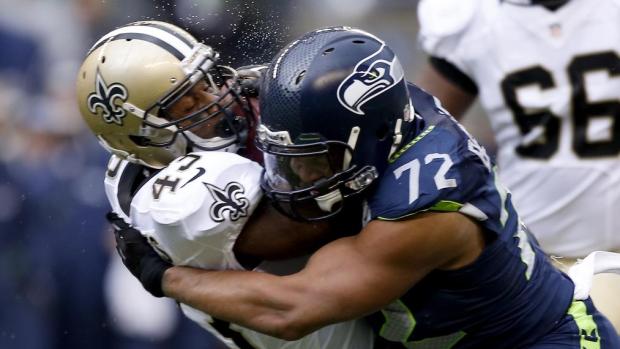 Getty Images
SEATTLE, WA - JANUARY 11: Running back Darren Sproles #43 of the New Orleans Saints is hit by defensive end Michael Bennett #72 of the Seattle Seahawks in the first half during the NFC Divisional Playoff Game at CenturyLink Field on January 11, 2014 in Seattle, Washington. (Photo by Otto Greule Jr/Getty Images)
For Chicago Bears fans looking for the team to make a big splash in free agency, their hopes were dashed a bit on Monday with some unwelcome news out of Seattle.
That news was that the Seahawks had retained the services of defensive end Michael Bennett, inking him to a four year contract extension. Bennett, whose brother Martellus is the Bears' tight end, was rumored to be one of the team's top targets in free agency, but just one day before the official signing period kicked off, he was able to work out an extension with the top defense in the NFL last season.
To his credit, Martellus took the news well, congratulating his brother via his Twitter feed:
The dream of the Bennett brothers playing together had been discussed quite a bit in recent weeks, but a reunion won't be happening in Seattle any time soon:
The Bears can officially sign free agents beginning at 2pm tomorrow when the NFL free agency window opens.