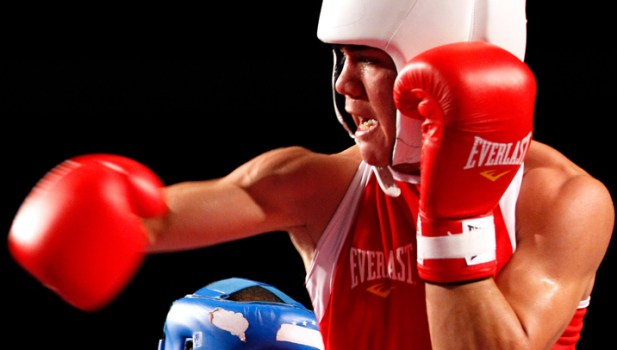 Getty Images
Boxer Joseph Diaz Jr. poses for a portrait during the 2012 Team USA Media Summit.
Joseph Diaz Jr. is a boxer, representing the U.S. at the London Olympic Games in the bantamweight class. According to the L.A. Times, he is the first and youngest American boxer to qualify for the Summer Olympics, at the age of 19. While Joseph's main focus was to go pro, in order to support his family, he told our producers that never thought he'd be an Olympian.
Joseph has an incredible story. He started boxing when he was 11 years old when he was being bullied at school. His dad, who is now his coach, brought him to a gym near their home to teach him a few moves. By the time he was 17 years old, Joseph competed in his first professional completion, and took home the gold medal. He went back to nationals at the age of 18, won, and unknowingly qualified for the Olympic trials. Joseph came in fifth, earning himself a trip to the London Games.
We're so excited to see how he does at the London Olympics! Check out some fun facts about Joseph: